Testing Services
Testing Services provides local and remote proctoring services for students to take exams in a professional, secure and monitored setting.
Announcements
Fall 2021
The DELTA Test Center will operate at full capacity with both locations open on a regular basis. Masks will be required at the test centers until further notice.
Testing Locations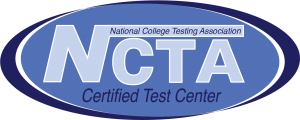 DELTA Testing Services received

National College Testing Association (NCTA)

Test Center Certification in March 2015. An integral part of the NCTA's mission is to promote professionalism and quality in the administration of testing services and programs.

National certification helps test centers to improve testing processes and service to examinees.

Certified test centers demonstrate their commitment to the NCTA Professional Standards and Guidelines and to achieving test center excellence.